It would be great if we had a magic wand to wave away that excess weight.
But that's not going to happen
It took time to put the weight on…it didn't happen overnight.
…and bad habits need to be broken, that's often the hard part.
Visualisation is a powerful tool. The mind is a powerful tool.
I often use an NLP or motivational interviewing techniques on clients and help them visualise themselves when they have achieved their goals.
One of the questions I ask is 'What are you wearing when you see yourself in the mirror'.
Often it's a something that's been hanging in the wardrobe for a good while – still waiting to be picked and worn again!
Closing your eyes and really visualising wearing this item, how it feels on you, how you feel wearing it, the colours, the texture, the fabric…really putting emotion into it.
Try it and see if it gets you in the right frame of mind and gives you the motivation you need.
Maybe dreaming of a magic wand may help. ?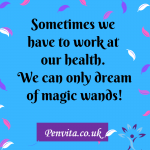 Penny offers free 'discovery' calls – 20 minutes to chat together to see if you are a good fit to work together to improve your health, lifestyle and wellbeing. Email her with a brief outline of what you want help with and your availability (eg daytime/evening) email:  penny@penvita.co.uk