Penny has been a trainer and coach for many years working with the public sector, and small businesses and charities, always going over and above the role she was in. She studied with the Chartered Institute of Personnel Development and gained Post Graduate status before deciding that to concentrate on health & wellbeing coaching. This is her story…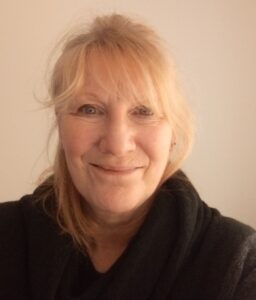 My interest in nutrition first started when I was suffering badly from PMT (pre-menstrual tension). After taking prescribed medications including various progesterone and oestrogen combination pills – which all had horrendous effects (my poor family!) I did my own research and healed myself. My interest in nutrition was born.
Over the years many of my health 'issues' have been the outcome of stress. External stressors in the form of: relationship breakdowns, raising children (oh my!!! being a single parent and those teenage years!) house moving, working in jobs with high responsibility.
I found that exercise made me feel really good. Not only getting my body in shape but it felt like a release and gave me such a buzz…I just couldn't get enough of it!
So after a yet another very stressful time in my life I decided enough was enough,
I booked a flight to Spain, shared an apartment with three others who became great friends – and gave notice to my current job. Whilst in Spain, I signed up with the Institute of European Fitness and studied to gain a qualification as an Advanced Personal Trainer which included nutrition and coaching skills. I worked in a gym and would also meet clients on the beach. What a difference to my 'previous' life.
When I returned to the UK from Spain I started up my own business and continued my studies gaining further qualifications.in fitness and Pilates, sports nutrition and coaching in psychological techniques.
I worked as a Health and Wellbeing Coach in GP surgeries with patients, and as a Nutritionist and Personal Trainer with private clients. The more I people I worked with the more I found that many were taking antidepressant medication with the lack of any natural or lifestyle interventions.
This prompted me to sign up for a three year course with the College of Naturopathic Medicine to give me more knowledge and skills and become a Registered Nutritional Therapy Practitioner.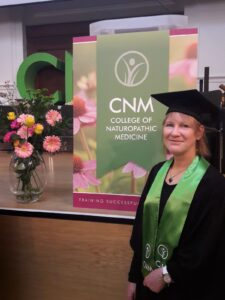 I now use a variety of natural therapies to help clients become the best expert in their own health.  Whether that is managing a health condition or addressing lifestyle issues from sleep, stress and weight management, to hormone imbalance, improving low mood or achieving fitness and mobility goals. It's about identifying the cause of any imbalances in the whole of the body and not just treating a symptom.
My naturopathic approach includes nutrition, coaching, TFT (tapping therapy), NLP as well as movement/fitness.
I'm registered with the CNHC (Complementary and Natural Healthcare council) and BANT (British Association for Nutrition and Lifestyle Medicine) and currently seeing clients online.
I feel very passionate about looking for the root cause rather than treating symptom with prescribed medicines. Food is the body's medicine and it should be used to complement our medical system.
I get just as excited as my clients do when they achieve their goals. This is what I call job satisfaction. I love my job :0)