Pilates, I feel, is more functional
and can help with daily movement mechanics;
When done regularly, Pilates can help to correct imbalances.
So don't wait until your body gets stiff or your back starts complaining due to excess sitting
and a sedentary life.
It feels good to move the body and feels even better when you realise you have more mobility and strength than you used to have 
🙂
People who have had Pilates instruction from me have reported less shoulder/back/hip pain, improved mobility and posture, and they love the guided relaxation/mindfulness that I finish with at the end.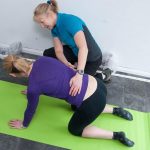 'We stretch, we work hard, we relax' I remember someone saying to me 'this is why I love your classes'.
Either way. Pilates or Yoga? Why not a bit of both. I do 
What would you like or need to focus on moving more? Do you need to strengthen your core? Do you work sitting most of the time? Contact me if you would like to have a one-to-one course of sessions and tell me how I can help.
Or attend one of my classes at…
Alchemise Yoga and Wellbeing Centre where I have a class on a Monday evening in Newport Pagnell. 
SNAP fitness where I have a class on Wednesday evenings in Oakridge Park